Strain of thought
Dan Ravitch journals through his travel to Israel following the October 7th attacks.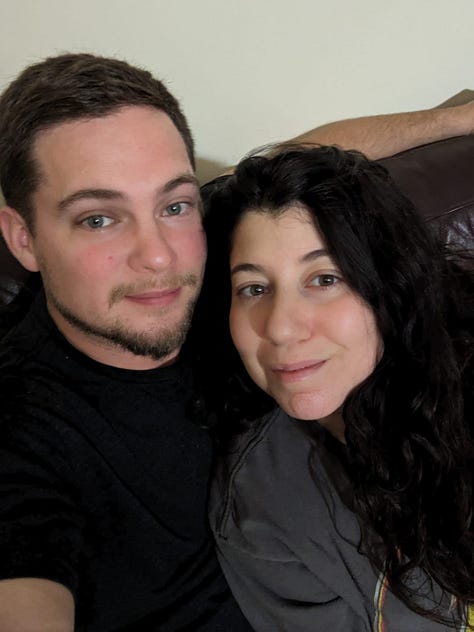 10-11-23 | An uncomfortable calm permeates the terminal. Future passengers, on their way to vacation destinations or business conferences, seem not to care at all about the war going on in my home. And why should they? But I can't shake the feeling, the unease, as if I am walking in a parallel universe, a different plane of existence in which I can see them, but I am invisible to their perception. My heart feels as if it beats audibly, but they walk by smiling, drinking their hot coffee, rushing to visit grandma, and pay it no mind.
Simultaneously, the other half of my being is on edge, that they all know. They all know that I soon will be joining up with my brothers and sisters in defense of Israel. Wait, was I just speaking Hebrew out loud on the phone? Was that Arabic I heard over there? What language was he reading on his phone just now? Do I look Jewish to them? I didn't leave my kippah on or Magen David necklace, did I? Midway airport, international flights I've been on dozens of times before, but this time it is different.
My mind logically explains it all away. I don't look "that" Jewish. I am traveling to a small town far from any front. While technically the North, near the Western Galilee region, it is not a hot spot. Not as dangerous as other locations. Shirlee is there, and I'm not sure if she is more frightened by the situation or me traveling to join her. But I couldn't sit still, far from her, far from our country. It's the only choice I had.
Soon I will arrive to Athens, to a new problem. I've heard of hundreds, if not more, Israelis at the EU hubs that Israel is operating emergency flights out of trying to get home. Many already were activated in their reserve units. Others plan to volunteer in other ways, medics, supplies, local security. Will I be important enough to get on a flight? Just another voice in the crowd of people who each have a more compelling reason to get home. I don't know, but I must try.
10-12-23 | Athens, Greece. A beautiful Mediterranean view greets me outside my plane window. Already feel as if I am in Israel. Other than the landscape, the people feel more Israeli. There is no longer personal space, many languages can be heard all around me, the calmness of the US is far behind. I keep my head down, not out of fear, but to look at other's shoes. You see, if you can't hear an Israeli's voice and recognize Hebrew, you can recognize them from their shoes. Blundstone, an Australian boot brand, is by far the most common shoe for Israelis to wear, especially while travelling. Or Shoresh sandals, of course, but in most countries it would be too cold to wear them now.
I don't have a ticket home yet. Online, it is impossible to find one, and if you do, the buttons to purchase don't work. My gut tells me it is on purpose, to ensure only Israelis can get those tickets. In Hebrew, I search for flights while walking toward customs. I hear Hebrew, and see a family, three children. In Hebrew I ask quietly, "Are you going to HaAretz?" (The land, meaning Israel.) "Eventually," the father tells me, "But not now…" I tell him I am looking for a flight and he wishes me good luck before we go through customs. "Wait," I think to myself, "I don't have a return flight. Will they let me into Greece?" I hand over my American passport. They ask me if I have another passport, and I hand over my Israeli. One glance and the female security officer opens it and stamps it. "Good luck," she tells me. The largest relief I had felt in a long time. Whether from being allowed into the airport or knowing there are still those who like Israelis, I am not certain.
I still don't have a way to Israel. I make my way to baggage claim, a headphone in listening to Galgalatz, radio in Israel. Red alert in Ashkelon. An interview with the mother of a hostage in Gaza. Need to find my bags and run to a ticket stand. Each story, each news update, my heart beats faster for Israel. For my family and friends already there. I walk quickly from baggage claim to departures and begin walking all along the 140 check-in counters looking for El Al. Starting in the middle, I make it to 140 with no luck. At the same time, I text a woman who works with vacation tours in Israel that I heard had been helping soldiers. She gets me a flight that boards in two hours, but it doesn't appear to have a check-in counter. I walk back to find that the Israeli airlines start at check-in booth 1. So much walking…
The flight doesn't exist. I sit defeated, finding myself with dozens of other Israelis. Families, and an elderly Russian couple, young men and women perhaps trying to fly back to serve in the reserves. Almost there, almost made it. A young man, broad shoulders, hair and beard and a look that shouts Israeli, walks between a ticket booth for Israir, a budget airline that has no more flights today according to the boards, and Israeli families. Acting like a "coyote," helping people get into the country by nefarious means, he whispers to one member of a family, who then signals to all the others to come with, and they grab their bags and run. I watch for a moment, hesitant to trust, and finally decide to ask. "Do you have a way to help us get home?" to which he replies, "Are you a soldier? Do you have a Tsav 8?" (Paper showing I have been activated into the reserves.) "Not yet, but I haven't been a resident in a couple of years. I plan to volunteer when I arrive," I tell him. "Ok, come with me, there is a flight leaving soon we can get you on." He sends me to buy a ticket from another desk, 100 euro, and I rush back to have my bags tagged by Israeli security. The standard questions of "Where did you come from? Who has had access to your bags? Has anyone given you gifts to take with?" I smile, I am almost home.
We arrive at the plane on a shuttle, over a hundred Israelis packed in on top of one another. Small talk, smiles, kids laughing. We find our seats and wait for the next shuttle. The cabin crew, that double as security and look like no less than ex-special forces, notify us to keep our seatbelts off until ready for takeoff, a security measure in case we need to get off the plane quickly. I had begun to calm down once we got to the plane, but now I keep my eyes looking out on the runway for potential threats. Soon enough, the flight is filled, and we take off. Two hours later, we land to the applause of the passengers. For the first time since arriving at the airport, saying goodbye to my father, I feel safe, in Israel.
Dan Ravitch
Community Contributor