Life in Israel in times of war
After making Aliyah to Israel from Michiana in August, Rebecca Clemans reflects on life in Israel post-October 7th.
On October 7th, 2023, Simchat Torah, our family went to bed celebrating Shabbat and awoke in a stupor around 6:30 am to alarms we didn't expect to hear, only six weeks into our Aliyah. We frantically yelled for our kids as they were jolted out of their sleep. We had 90 seconds to get out of bed and make it down four floors with six kids to the safe area of the lobby (our oldest was in a Mechina - a pre-military camp). We actually did make it down in time and finally met all of our new neighbors in the bomb shelter. There were five families consisting of 11 adults & 17 kids, all packed in like sardines. Everyone spoke loudly in Hebrew about what was transpiring, and after five minutes I began asking even more loudly, "IN ENGLISH?!" Then they explained that there was an attack in the south, and the whole coast was being shelled by terrorists from Gaza. We were in the shelter approximately three hours that morning with 50 alarms (and multiple rockets with each one) throughout the day and into the evening. By the end of the day, more than 2,000 rockets rained down on Israeli civilians.
As the sirens blared on our second trip down, I noticed an elderly man with very blue eyes sitting in a wheelchair by his open door watching us all go down to the shelter. I asked, "Can we help you?" He said, "No, I'm old. Go." It was an awful feeling leaving him there. On the way back up to the apartment, we introduced ourselves. He said, "Finally! The Americans!" His name is Daniel and he made Aliyah forty years ago from New York. I introduced him to my younger children and said, "This is Daniel." And he responded affirmatively, "Grandpa. You can call me Grandpa". Such lovely words to hear in such an unpleasant situation. Thankfully, after two days, someone took him to a safer location. 
As the day continue, amidst consecutive sirens, we slowly started to regain some of our senses. Within three hours, parents brought games down to the shelter to play with their children, in hopes of calming them down even though we were all literally shaking on the inside. After the 15th round, one family brought a candy tray to be passed around because their teen was celebrating his 16th birthday. So, we celebrated with him, putting on anxious smiles and congratulating him.
By midday, our neighbor in apartment 1 had the clarity to see a need to clean and "warm up" the bomb shelter. Over the course of the afternoon, we helped him remove the junk (it was being used for storage) and sweep the floor. He then brought multiple items from his sukkah. He covered the floor with a large, practically new, robin's egg colored vinyl tablecloth, set up a fan, arranged chairs, hung decorations and lights, etc. At the end of the day, it was actually a little cozy…almost welcoming (especially compared to its original state). This made it feel a lot less traumatizing. 
Over the next several days, we began getting to know our neighbors, as running to the shelter became "routine." One particular evening bombing, our neighbor managed to keep his four-year-old daughter asleep while hurrying into the safe room. Smiling at this accomplishment, he casually asked my husband, "So, how was your day?" As we all stood in our PJs waiting for the loud thud of the Iron Dome to dismantle the rocket(s). This, in and of itself, was our small win. This unusually casual exchange showed terror having less of a hold on us. 
The next day, we heard there were reserves sleeping on concrete floors at a mall (which had been shut down that week) with not much food. Few people realized they were there. Then more soldiers started showing up in different areas as reserves flooded our town. Our entire community scrambled to help meet their needs. I asked Eldad, our real estate agent, while he was checking up on us - if he knew of a way to help feed them. He said he would check, and he quickly got back to me. He told me if I could make warm food and have it ready by lunch, he would pick it up and deliver it to the soldiers. I grabbed everything I had on hand - potatoes, rice, quinoa, peppers, onions and frozen green beans. I ran to all my neighbors asking if they could make a batch of something, and in two hours, we had food for a hundred reserves. For the next ten days, Eldad told me what the service men and women liked and needed, and I would see how much food we could make. At first it was hot food, then sandwiches and trail mix for on the go, then water, water, water. 
---
If you would like to support the Clemans Family in their initiative, please make a donation to the Rabbi Jacob Berman Community Center in Rehovot, Israel - click here and type in FOOD FOR SOLDIERS in your message after your donation.
---
One thing we noticed when homemade food was carried out to cars was that the trunks were filled with donations of chips, coke and candy. The "food" tables at the stations were piled high with pastries and processed food. These boys are literally going to fight the fight of their lives and they are being fueled with this? So many of these soldiers look just like my teens. As parents, it made our stomachs turn to think of our oldest (who will be entering the army in the next six months) fighting a war with this diet. We have five sons and two daughters. When we see these young faces, we see our children. All of these soldiers are all of our boys and our girls, our family. All of these kids are making a sacrifice hoping that the next generation won't have to. So, it became our goal to make as much healthy food for them as we could.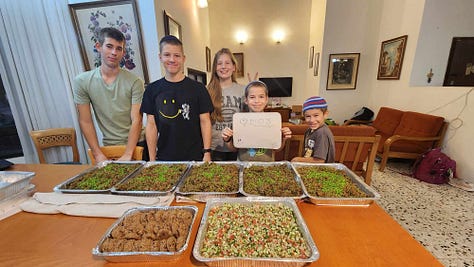 The nearby schools began to fill up with hundreds, and then thousands, of soldiers (as of November 6, soldiers are no longer in the schools). We were told to just show up at the school closest to us and see what was needed. For the next two weeks, we made three hundred eggs three times per week, plus hot meals of fifty to seventy-five servings in the evenings. Our children discovered they could whip up three hundred scrambled eggs in ninety minutes (with chopped onions & peppers!). Even the soldiers were impressed with their efficiency! Through these experiences, the kids are learning that age doesn't matter when it comes to making a difference. Seven-year-old Toviah and ten-year-old Oved take out the garbage, peel onions, help assemble sandwiches, wash dishes and help clean up. (They are essential to the process.) The teens all help prepare food and work like a dream team (yes, I'm gloating as a mom!). Plus, we have a new addition - our oldest, Seth's, new girlfriend! So, we are currently a team of ten! 
I would like to mention here, this experience has truly helped my children adjust to the war. They go to bed every night and ask, "Does anyone need meals tomorrow? Is it going to the south or the north?" Frequently, they are rewarded by a video sent by a soldier expressing their appreciation. On some occasions, they would get to deliver the food themselves and personally get to see the smiles on the soldiers' faces and be greeted with "Todah Rabah!" It has given everyone in our family a sense of purpose and has defeated the feeling of helplessness. We all feel privileged to be able to help in this small way along with many others.
Grocery shopping was overwhelming as a new, illiterate immigrant before the war. Now add a couple hundred more meals and rockets to the challenge. Just leaving the apartment is stressful for fear of the sirens going off while traveling. We need to be ready to jump out of the car and run for cover because of shrapnel that falls after the Iron Dome takes out the rocket(s). I began praying for a grocery store that would work with my large quantities & deliver them. The next day, my prayers were answered! A grocer who delivers was recommended to me and I have been working with him ever since. He truly is amazing and always delivers my orders for free. Neither of us speak each other's language, but we communicate with pictures and Google Translate, and we figure it out. The other night at 5 pm, there was a request to help feed five hundred soldiers by 7 pm (crazy, I know). We knew that we could do a hundred portions. So, I wrote to him and said, "I need bread and veggies for a hundred sandwiches. How fast can you get it to me?" He got it to me in thirty minutes! He told me, "The next time you need bread, please let me donate eighteen loaves."
These days are no doubt the darkest days Israel has seen in a long time. Yet through it all, it's amazing to see so many people pitch in for one another and do what needs to be done, such as the grocer donating his bread and his time. It truly is life changing to witness the good in people, as every business and household jumps to help neighbors, soldiers, evacuees, and farmers. For instance, hundreds of thousands of civilians are volunteering on farms that are collapsing because most of the employees are either reserves that are now on active duty, or foreign workers that went back to their respective countries. A friend, who volunteered on a tomato farm last week, said she was picking tomatoes next to the CEO of a high-tech company, along with an engineer, university students and people from all walks of life. While they were picking tomatoes, she would hear others saying, "I'm not at my desk right now. I'm picking tomatoes because there is a war, and they need help.'' Last week a physicist volunteered to deliver food we had made to soldiers in the south. It was a two-hour drive to a destination that was just three miles from the borders of Gaza and Egypt. 
And a few days ago, while the kids were carrying cases of bottled water into a school, a soldier came running out to say thank you and that he was so grateful. I was terribly embarrassed and said, "I'm doing this to thank YOU!" To this he replied, "Well, I guess it's a joint effort then!" So, it is. It is a joint effort for us all - from the grocer who delivers immediately and free of charge, to the real estate agent & physicist delivering food, CEO's and engineers picking tomatoes, volunteers who are saving farms and helping evacuated families, and to the seven-year-olds, the teens and their families that cook to provide hot healthy meals, and especially to the soldiers who are fighting for us. It is a joint effort for Jewry and the very existence of Israel.
"Optimism is the belief that things will get better. Hope is the belief that, together, we can make things better."  Rabbi Jonathan Sacks
Rebecca Clemans
Community Contributor
---
If you would like to support the Clemans Family in their initiative, please make a donation to the Rabbi Jacob Berman Community Center in Rehovot, Israel - click here and type in FOOD FOR SOLDIERS in your message after your donation.