Jewish Federation staff participate in low ropes training
Members of our Jewish Federation professional staff recently had the opportunity to learn how to safely use the low ropes course installed on our campus in 2022.
We were joined by experts, Dan Ravitch & Shirlee Greenwald, who literally and figuratively took us through the ropes, teaching us the lessons they learned from running this program with our Camp Ideal kids the past two summers.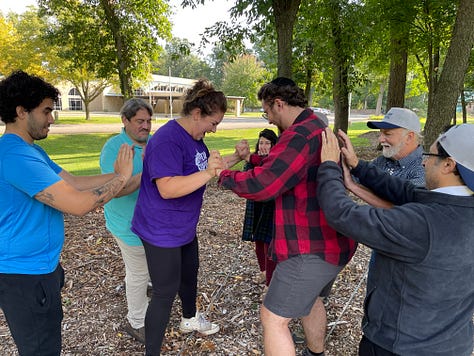 The low ropes course at the Jewish Federation is a fun and challenging way to build confidence in your team. Organizations and groups are welcome to contact Dan Cossman at the Jewish Federation for rental options - dcossman@thejewishfed.org or (574) 233-1164 ext. 1801.
We are extremely grateful to 1st Source Bank Foundation for generously providing funding to support the purchase and installation of this awesome addition to our community campus.